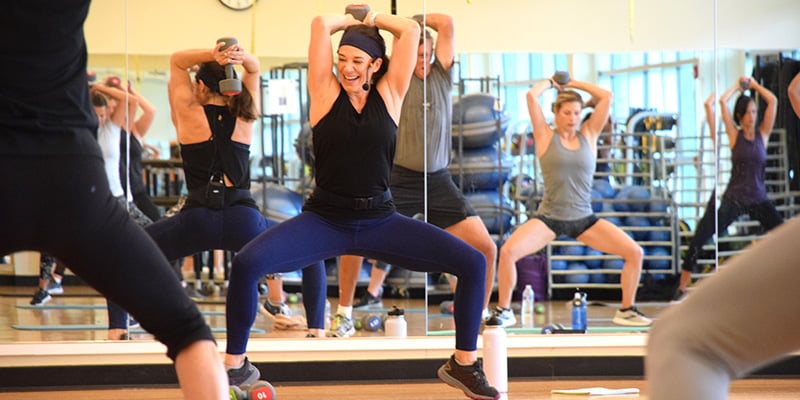 STRONGER TOGETHER
With an array of fitness classes each week to choose from between our branches, the Y is committed to supporting you and your health and wellness goals. Our group exercise classes range in style and intensity and include yoga, Pilates, TRX®, Spin®, Zumba®, LES MILLS®, high-intensity interval training, barbell classes, and more.
GROUP EXERCISE CLASSES WE OFFER
Cardio Classes
Ready. Sweat. Go.
Get your heart pumping and boost your metabolism with any one of our cardiovascular classes including HIIT, boot camp classes, cardio kickboxing, jump ropes, dance and more. Other added benefits to regular cardio exercise include increased lung capacity, reduced stress, reduced risk of heart attack, high cholesterol, high blood pressure, and diabetes, and better sleep.
---
Cycling/Spin Classes
Give this a Spin.
Jump on one of our specialized stationary bikes to improve your endurance and strength while torching calories. This is a full-body cardiovascular workout, but you can go at your own pace! Our instructors will keep you motivated throughout your ride.
If you're new to Spin® or cycling, please arrive 10 minutes early so we can help you adjust your bike to fit you for class.
---
Strength Training & Core Classes
Lifting Weights, and Spirits.
Gain muscle and self-confidence with any one of our strength training and core classes including LES MILLS BODYPUMP™, total strength, TRX®, strength interval, barre, and more. Strength training not only promotes building muscle, but other benefits include: protecting bone health, weight loss, better balance, chronic disease management, increased energy, and improved blood pressure.
---
Stretching, Yoga & Pilates Classes
Find your Zen.
The mind, body, and spirit should work together as one – and this is what our classes here at the Y aim to achieve. Whether you're a beginner or advanced, we have a variety of classes like easy flow, Vinyasa flow, Pilates, gentle yoga and more. Join us at any skill level and improve your flexibility, alignment, focus, and mindfulness.
---
Adaptive Fitness Classes
Fit for All.
Fitness is for everyone, regardless of experience level or physical ability. The Y has a variety of programs where individuals of all abilities can work out together in a welcoming and safe environment. We offer programs for children, young adults, and adults with special needs with a wide range of skillsets.
---
Zumba Dance Classes
Show us Your Moves.
All fitness should be a party, but our Zumba® classes are for sure! You'll burn calories while you move and groove your way to better cardiovascular health. This whole-body aerobic workout can also improve flexibility and strengthen your core, all while dancing and having fun!
---
Youth Fitness Classes
Where Fitness Meets Fun.
Our goal at the Y is to give individuals the tools they need to create long-lasting healthy habits, and that goal includes putting children and young adults on the path to a healthy lifestyle.