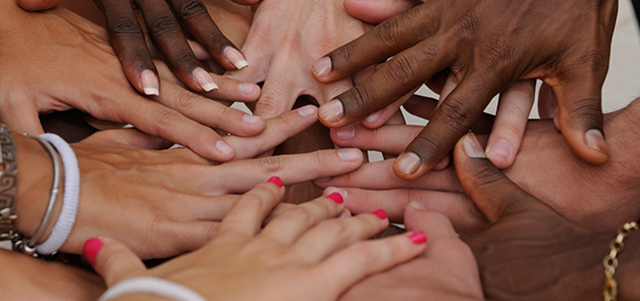 COMMITTED TO STRENGTHENING COMMUNITY
WHAT ARE DIVERSITY, EQUITY & INCLUSION?
Diversity
Diversity is the presence of differences that make each person unique and that can be used to differentiate groups and people from one another.
Equity
Equity is the guarantee of fair treatment, access, opportunity, and advancement for all, while striving to identify and eliminate barriers that have prevented full participation of some groups; it acknowledges historically underserved and underrepresented populations, and that fairness regarding these unbalanced conditions is needed to assist equality in the provision of effective opportunities to all groups.
Inclusion
Inclusion is the full engagement and development of all Y stakeholders (staff, participants, members, policy volunteers, program volunteers, partners, communities, vendors, etc.).
---
ALL ARE WELCOME
The Y empowers everyone—no matter who they are or where they're from. To fulfill our purpose of strengthening community for all, Greater Somerset County YMCA is committed to being an inclusive organization and leveraging our collective impact to address social inequities.
Our Commitment to Diversity, Equity & Inclusion (DEI)
The Y is made up of people of all ages, from all walks of life, working side-by-side to strengthen communities. Together, we strive to ensure that everyone, regardless of ability, age, cultural background, ethnicity, faith, gender, gender expression, gender identity, ideology, income, national origin, race or sexual orientation has the opportunity to reach their full potential with dignity. Our core values are caring, honesty, respect, and responsibility — they guide everything we do.
At the Y, we recognize that in order to be truly "for all," we need to lead with equity. That means working with local community partners to identify and remove the barriers that historically have prevented some of those in our communities from thriving, while helping to ensure that each individual can access the unique support they need.
Below are are some of our ongoing commitments as work to strengthen community:
We are committed to supporting and advancing diversity at all levels of staffing so our Y reflects the diversity of the communities we serve
We will build bridges between people of all walks of life and create brave spaces for the safe exchange of diverse ideas and perspectives
We have and will continue to make anti-racism training and resources available to Y staff and volunteers
We uphold high standards for intentional, inclusive language to ensure that people of all Dimensions of Diversity feel welcome and included at the Y
We support employee resource groups created/led by and for staff of diverse backgrounds and experiences – such as our LGBTQ+ Employee Resource Group – to facilitate peer-to-peer mentorship and support
We promote awareness among our staff of national YMCA employee resource groups for Y staff who identify as Asian/Pacific Islander, Black, Hispanic/Latino, LGBTQ+, women, and young leaders 
---
THE MANY DIMENSIONS OF DIVERSITY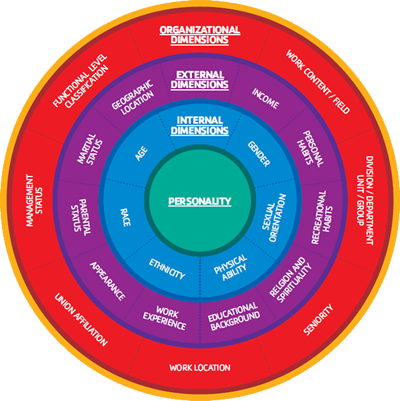 Our Diversity Wheel represents the various dimensions of diversity and is a key to unlocking awareness and supporting understanding. Our Y staff are trained with this very wheel, and our programs and services revolve around the understanding and respect of all dimensions of diversity, including:
Each individual's Personality is at the very center of the Wheel. Unique to each of us, all dimensions of diversity connect back to our unique experiences and perceptions of the world around us. Therefore, we are indivisible from them.
Internal dimensions are central to our personal experience, have sustained influence in our lives, and are often the dimensions that we most closely identify with. Many of these dimensions are unchangeable – reflecting how we were born – though some may change over the course of our lives.
External dimensions, while critically important in determining our identity, have a greater degree of control or self-determination to change, which is not as present in our core dimensions.
Organizational dimensions contribute to how we experience our time with the Y and/or our workplace, educational institution, or other similar organization to which we are strongly affiliated. They help to shape how we approach our work/daily lives and how we connect with others within the Y and/or our other organizations.
The outer ring highlights the role of the outside world in shaping how we define our dimensions of diversity. Just as self-identification emphasizes the importance of how we see ourselves, collective and global context emphasizes the importance of how the world perceives us.
---
CELEBRATING OUR DIVERSITY, TOGETHER
At Greater Somerset County YMCA, our member-led Cultural Engagement Committees celebrate the uniquely diverse and vibrant communities served through our branches located in Basking Ridge, Bridgewater, Hillsborough, and Somerville.
Join us as we explore rich cultural traditions, holidays and festivities, as well as national awareness months, weeks, and days throughout the year, including:
Diwali Festival
Martin Luther King, Jr. Day of Service
Black History Month
Holi Festival
LGBTQ+ Pride Month
Lunar New Year Festival
Juneteenth
Asian-Pacific American Heritage Month
Welcoming Week
National Hispanic Heritage Month
Indigenous People's Day
---
THE Y'S COMMITMENT TO STRENGTHEN COMMUNITY
The Y is a global organization with an inclusive mission. We welcome all people.
The Y's core values are caring, honesty, respect and responsibility. They guide everything we do.
The Y is a non-partisan organization. We do not take public positions on partisan issues.
We focus our energy and resources on our purpose: strengthening community by connecting all people to their potential, purpose and each other.
IT'S WHO WE ARE & HAVE ALWAYS BEEN
Did you know that the Y has a long history of helping immigrants integrate into their new neighborhoods and preparing receiving communities to be inclusive?
In 1856, the Y was the first organization in the U.S. to offer English as a Second Language classes to immigrants.
In the late 1800s, YMCA immigration secretaries greeted hundreds of thousands of new arrivals at Ellis Island (New York) and Angel Island (San
Francisco), helping them locate family members, housing and employment.
In the early 1900s, the YMCA of Greater New York introduced adult night classes to new immigrants. As the U.S. population moved westward, Ys provided affordable housing to immigrating and migrating communities.
---
DO MORE. BE MORE.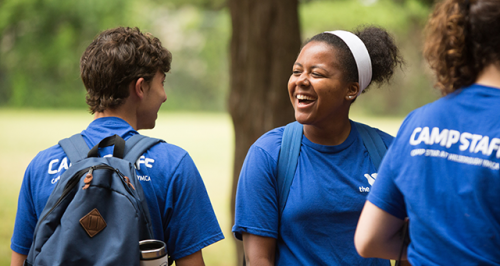 Greater Somerset County YMCA is a drug free work environment. We are an Equal Opportunity Employer and all qualified applicants will receive consideration for employment without regard to race, color, religion, sex, sexual orientation, gender identity, gender expression, national origin, age, protected veteran or disabled status, or genetic information who share our values of Caring, Honesty, Respect and Responsibility.