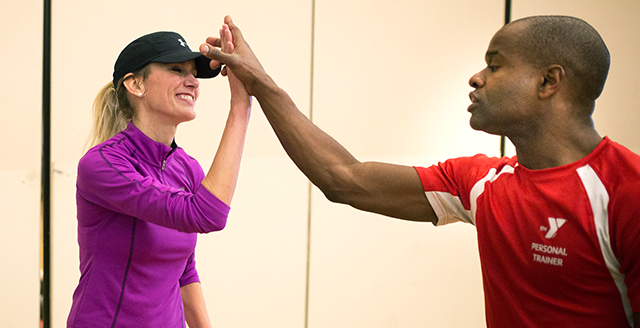 TAKE IT PERSONAL
When it comes to working out, we take it personal, because exercise is not one-size-fits-all. Your goals are different from the person next to you, and we want to make sure you meet them in a customizable way that works for you.
What Doesn't Challenge You Doesn't Change You
Whether you're new to the gym and need guidance on your fitness regimen or want to fine tune your routine, our certified personal trainers can help you set your goals with an introductory fitness assessment, and will help you reach them with a customized program tailored to your unique needs.
OUR TRAINING OPTIONS
We offer training packages for individuals 10 years and older, in a personal, pairs, or small group setting. Choose from 30, 45, or 60-minute sessions. If you're new to personal training, you can try our introductory Tri-Pack package to get you started on your path to better health. Whatever fitness package you choose, our dedicated trainers are here ready to challenge your limits and cheer you on as you reach your goals.
Tri-Pack Personal Training Introductory Offer – Three-session starter pack – try the Y!
Traditional One-on-One Personal Training – One-on-one guidance from a certified personal trainer tailored to you.
FitCommit One-on-one Personal Training – One-on-one guidance from a certified personal trainer tailored to you.
Nutrition Counseling – Work with our certified nutrition coach to reach your goals.
Pairs Personal Training – Enables you and a partner to work with a certified personal trainer to optimize your health.
Small-Group Training – Personal training for groups of 4 to 6 people is a great way to get results, be held accountable and have fun. Ask about our specialty small group trainings.
Virtual Training – Our expert personal trainers come to YOU through our Y's Virtual Personal Training program. Trainers help you achieve your personal wellness goals through real-time feedback on form and progress.
Water Personal Training – Take your fitness to the water for a unique low-impact training experience!

Pilates Personal Training – Enables you to work one‐on‐one or in a small group with a Pilates trainer on a Pilates Reformer.