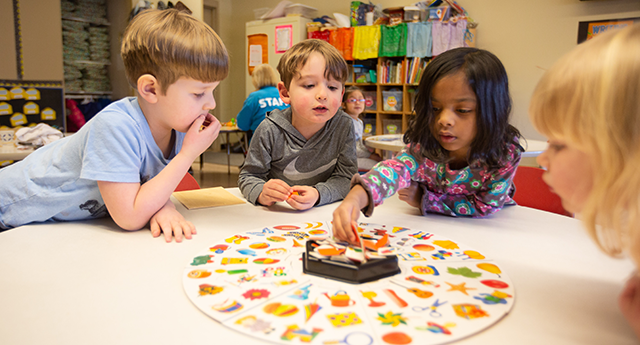 AT THE Y, THEIR FUTURE IS BRIGHT
Strong foundations for young minds
Our Kindergarten Programs prepare children for a seamless academic and social transition to 1st Grade. Our program builds confidence and positive self-esteem while emphasizing the foundational academic skills necessary to take that next big step into elementary school. Kindergarteners enjoy a comprehensive STEAM-based curriculum enhanced with social emotional activities to support your child's whole development.
Beyond the school day
For working parents we also offer extended care options. Before and after school hours play an essential role in ensuring healthy development of our children with fun, stimulating enrichment activities. They'll make friends, have fun and learn new skills that will carry them into their bright future.
At Greater Somerset County YMCA, we offer Full Day Kindergarten programs with extended care options through Hillsborough YMCA and Kindergarten Wrap-Around programs through Princeton YMCA. See below for more details on specific programming and cost.
EXPLORE OUR PROGRAM OPTIONS
Full Day Kindergarten (Ages 5 years to 6 years)
5 Full Days  |  Monday – Friday  |  8:00am-5:00pm  |  $1230 per month
Hillsborough YMCA's Full Day Kindergarten Program is dedicated to successfully preparing each child for a smooth transition to 1st Grade and elementary school. This program includes the required academic skills and provides the nurturing necessary to build confidence and positive self-esteem in each child. Our values emphasize caring, honesty, respect and responsibility, and we are committed to building healthy, confident children who reflect these values. Social skills are encouraged through group projects and physical fitness.
---
Kindergarten Enrichment (Ages 5 years to 6 years)
5 Full Days  |  Monday – Friday   |  $749 per month
Kindergarten Wrap-Around Program
SERVING MONTGOMERY TOWNSHIP SCHOOL DISTRICT
Located at the YMCA Kindergarten Center at Orchard Hill (formerly Montgomery Kid Connection)
Morning Wrap Around for PM Kindergarteners: 7:30am – 1:15pm
Afternoon Wrap Around for AM Kindergarteners: 12:15pm – 6:00pm
WHY CHOOSE THE Y
Age-Appropriate Curriculum
From 6 weeks old to getting ready for 1st Grade and beyond, the Y provides a strong foundation for children. Our full-day Kindergarten program comprises experiential learning rooted in a STEAM-based curriculum alongside fully-integrated Sanford Harmony™ social-emotional development opportunities to nurture the whole child.
Caring, Well-Trained Staff
Our experienced staff is comprised of caring, nurturing individuals who are trained in early childhood education as well as degreed certified teachers. Additionally, all staff are required to complete a minimum of twelve hours of on-going training on an annual basis and are certified in First Aid and CPR.
Nurturing Environment
Small class sizes support early learning outcomes. In our program's small group setting, children receive that all-important one-on-one time in the classroom more frequently.
Beyond the School Day
The Y's wrap-around extended care options support the needs of today's working families. Before and after school enrichment activities engage children while providing parents with the peace of mind knowing their child is in the care of the nation's largest nonprofit child care provider. Parents can even register their child for after school swimming lessons or dance class! Our staff accompany children to and from their lesson/class while in the Y's care.
Family Involvement
Home and school are a child's two most important worlds. Our goal is to connect these two worlds in a positive, respectful way so the children feel secure and confident. Activities throughout the year offer opportunities for families to share in the school experience.
Committed to Your Child's Safety
In an effort to continually improve the safety and security of our YMCA, we utilize a system called Raptor which instantly screens visitors against registered sex offender databases in all 50 states. This is in addition to sex offender screenings the Y regularly conducts on all members, participants, and staff. All authorized pick-ups must present a state or government issued photo ID every time when picking up a child.
Y For All
We believe that everyone—no matter who they are or where they're from—deserves the opportunity and the resources necessary to reach their full potential. In addition to any community subsidies families may qualify for, the Y also provides direct financial assistance to qualifying families enrolled in our child care programs—made possible through the generosity of our Y's Annual Campaign donors and proceeds from special fundraising events. Visit gscymca.org/fa to learn more.
THE Y: WHERE MEMBERSHIP MEANS MORE
The Y isn't a building. It's people from all backgrounds and walks of life who come together to improve their lives, nurture their families and strengthen their community, together.