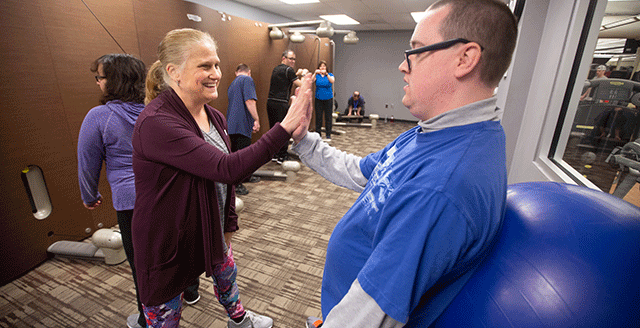 Y FOR ALL
Adaptive Fitness & All Abilities Programs
We believe that everyone in our community deserves the opportunity to learn, grow and thrive. We are proud to offer many adaptive fitness and all abilities programs and services for individuals with special needs and diverse abilities. Recognizing the need for these programs in our community, we aim to help individuals gain confidence, promote independence and responsibility, socialize and work with others, and nurture a healthy and active lifestyle. Qualified, trained staff members lead these programs and in a safe, friendly and supportive environment.
Our programs and services include:
Adaptive Fitness – low impact training for all abilities*
Jazz Hop dance classes at Somerset Hills YMCA*
Musical Me music classes at Somerset Hills YMCA*
Saturdays in Motion at Somerset Hills YMCA
Special Olympics
Creative Movement Dance Classes at Hillsborough YMCA
All Abilities Club at Somerville YMCA
Programs marked with a * require in-person registration.