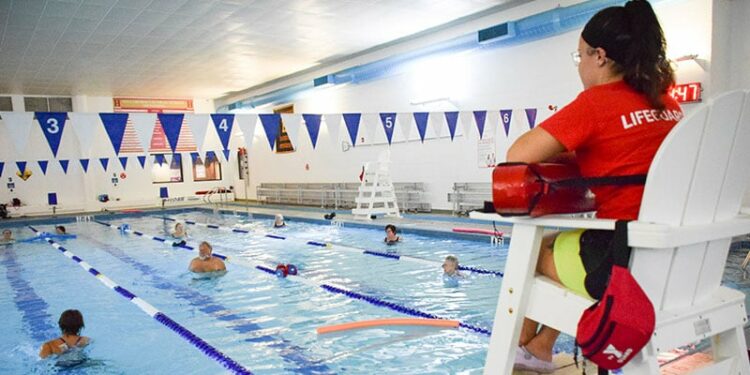 DIVE RIGHT IN
Feel good about where you work. At the Y, we serve thousands of members and program participants of all ages, backgrounds, and life experiences. We offer a values-centered work environment and benefits that include a free YMCA membership, ongoing training opportunities, program discounts, and much more. And when you work at the Y, you're a vital part of a mission-driven nonprofit that strengthens YOUR community.
Why Work in Aquatics at the Y?
Greater Somerset County YMCA owns and operates a total of nine indoor pools in its four aquatics facilities
We are home to GSCY STORM Swim Team – a nationally-recognized, year-round competitive swimming program
The Y is the nation's swim instructor. At Greater Somerset County YMCA, we have literally taught thousands of people how to swim
The Y's FREE Safety Around Water program, which focuses on drowning prevention, ensures that every kid can learn essential skills to help them stay safe, develop confidence, and have fun in and around water.
Working at the Y, you can have a positive impact on many ages and abilities – from youth/adult swim lessons to lifeguarding to low-impact aqua exercise classes to special needs recreation to lap swimming
Our part-time positions offer flexible schedules which are great for working around a second job, college class schedule, or children's school schedule…you can also mix-and-match positions for personalized variety in your day – lifeguard one day and teach swim lessons the next – it's all possible at the Y!
Our full time positions offer comprehensive benefit packages that include medical and dental insurance along with a 12% employer contribution to the retirement savings plan after two years of employment
There are ongoing training opportunities for aquatics staff at all levels
Safety is our top priority, always
When you work at the Y, you'll be part of one of the most respected nonprofit community benefit organizations in the world — a place where you can positively influence the lives of others and a place where you are building more than your resume — you help build a better future for yourself and your community. The opportunities are endless, and this is where it all starts.
CURRENT OPENINGS BY BRANCH:
---
Grow More Than Your Career
Click below to learn more about Greater Somerset County YMCA's comprehensive wage and benefit packages as well as ongoing professional development and training opportunities available to full-time and part-time employees.
---
Commitment to Diversity, Equity, and Inclusion
Greater Somerset County YMCA is a drug free work environment. We are an Equal Opportunity Employer and all qualified applicants will receive consideration for employment without regard to race, color, religion, sex, sexual orientation, gender identity, gender expression, national origin, age, protected veteran or disabled status, or genetic information who share our values of Caring, Honesty, Respect and Responsibility.
Year after year, Forbes names the YMCA a Leading Employer for Diversity:
https://www.forbes.com/best-employers-diversity/#6688b12e9b9e
LOOKING TO VOLUNTEER AT THE Y?
Volunteers are vital to the Y. Without you, we wouldn't be able to meet the needs of the kids, families, and adults who live in our community. Learn more and view current volunteering opportunities by clicking below: