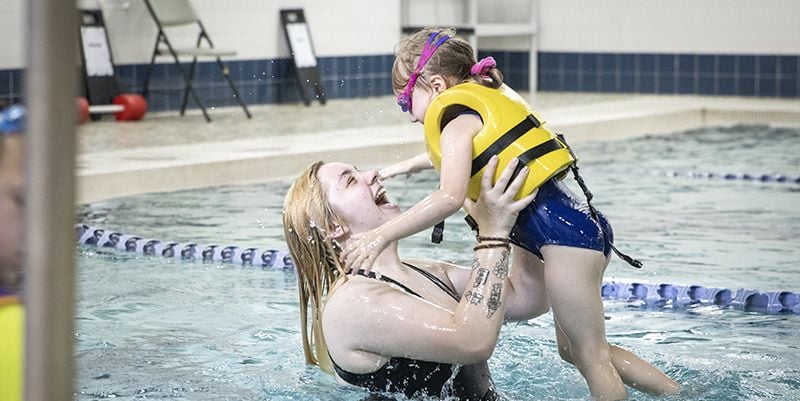 MAKE A SPLASH
Swim Lessons for Youth, Family & Adults
Learn to swim and be safe in the water at the Y! Swimming is a life skill as well as great exercise and a challenging sport. Swim lessons not only keep kids and adults safe in the water, they also build self-esteem and confidence!
Group Swim Lessons
Our group swim lessons use a progression curriculum that will put swimmers on a clear track toward their goals. We focus on creating strong swimmers through customized skill development based on age, swimming ability, level of physical development and confidence in the water – each swimmer will advance to the next level when the necessary skills are acquired. We offer complimentary swim evaluations to assess the appropriate placement of swimmers and are happy to answer any questions about placement. Our lessons are typically 30-45 minutes each and are offered one to four times a week, depending on the session. Please contact your Greater Somerset County YMCA branch for lesson availability.
SWIM LESSON LEVELS
SWIM STARTERS
Develops water enrichment and aquatic readiness in children ages 6 months to 3 years. This category focuses on developing swim readiness skills through fun and confidence-building experiences. Parents also learn how to supervise children in the water, how to prevent accidents and how to plan for emergencies.
Stages A & B: Water Discovery introduces infants and toddlers to the water with a parent or guardian where children learn basic skills like blowing bubbles, kicking, and floating with assistance through games and songs.
SWIM BASICS
Develops personal water safety and basic swimming skills in students of all ages. Swimmers develop a high level of comfort in the water by practicing safe water habits, engaging in underwater exploration and learning how to swim to safety and exit if they fall into a body of water.
Stage 1: Water Acclimation increases comfort with underwater exploration and introduces basic self-rescue skills performed with assistance.
Stage 2: Water Movement encourages forward movement in water and basic self-rescue skills performed with assistance.
Stage 3: Water Stamina develops intermediate self-rescue skills performed at longer distances than in previous stages.
SWIM STROKES
Introduces and refines stroke technique in older students (school age, teens and adults). Having mastered the fundamentals, students learn additional water safety skills and build stroke technique, developing skills that maintain good health, increase well-being and foster a lifetime of physical activity.
Stage 4: Stroke Introduction introduces basic stroke technique in front crawl and back crawl and reinforces water safety through treading water and elementary backstroke.
Stage 5: Stroke Development introduces breast-stroke and butterfly and reinforces water safety through treading water and sidestroke.
Stage 6: Stroke Mechanics refines stroke technique on all major competitive strokes and encourages swimming as part of a healthy lifestyle.
Stage 7: Stroke Endurance improves stroke technique and utilizes longer distance swimming to build endurance.